The horse's mouth is a quite large space but it has a very small opening at the front and, as a result, it is not easy to examine its entirety. Those of you who have had the opportunity to put your hand into a horse's mouth will know just how far back it goes and just how little room there is to get your hand in there.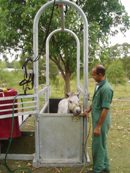 Just like humans, horse's teeth and their associated structures (gums, lips, cheeks and tongue) can have problems which can develop within the mouth without outward signs for many years before we actually notice them, by which time it is often too late to do very much to rectify the situation. For example a 20 year old horse whose teeth are loose, severely misaligned or abnormally worn has often been developing these problems for 10 or more years and gone un-noticed until the horse starts to show signs of dental disease – such as dropping feed, losing weight, objecting to the bit or getting bad breath. Sadly if the same horse had been properly examined at regular intervals – often annually – the problems may have been controlled by specific corrective work during their formation. Now we can only make them comfortable, as the amount of tooth growth remaining is often too little for major corrective work.
Veterinarians are becoming more active in the equine dental field following recent technological advances which have enabled us to examine the mouth in far more detail than was previously possible. This, combined with new instrumentation and with the ability to legally and safely sedate the horse, allows a more detailed examination with reduced stress on the horse, ultimately allowing us to use our training in anatomy, physiology, disease management, pharmacology and in equine dentistry itself to affect the best management of a problem and possibly even to prevent or cure the abnormality BEFORE it becomes a problem. After all, an ounce of prevention is worth a pound of cure. (Somehow a gram of prevention is worth a kilogram of cure doesn't sound right!) The general recommendation is to examine the horse's mouth twice a year from 2-5 years of age then annually after that, although with some abnormalities more frequent examination and treatment may be required.
Currently there is a register of approximately 250 veterinarians from all parts of Australia who have undergone postgraduate training in Equine Dentistry. Contact your local equine veterinarian or the Australian Equine Veterinary Association on 02 9431 5080 for more information.