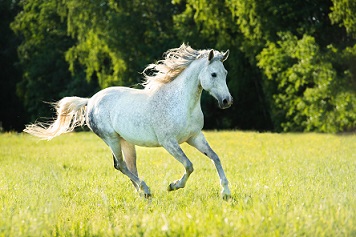 This is a complex of diseases which may occur separately or together. It includes hypersensitivity to insect bites – particularly midges, fungal and/or bacterial infection (dermatitis), and self-traumatisation from scratching. It tends to occur more in the warmer moist months of summer, but as many of us know it can extend into winter, especially when the weather is fairly mild or wet.
This condition is not fun to deal with. There are a multitude of products available for its treatment, but as many of us have found, what works on one particular horse may not work on another. You also may find that what worked previously is no longer effective. So there is no easy solution but trialing different methods to see what will work.
We have 4 horses & the following steps are methods we have tried with our own:
Rug your horses all year round, use cotton or shade-cloth rugs when it is hot. This may be enough, in some cases, to stop your horse getting itchy. This is enough for one of our horses.
Spray your horses with an insect repellant twice daily. You can use a commercial product such as Fly Away or herbal products. Some of these you can make up at home such as the Qld Itch Remedy. See the recipe below. We have two of our horses on this regime (they are also rugged). There are also products such as Brute that other people have found effective. Unfortunately it is a matter of trialing products on your horse to see what will work for them.
If this is still not working you can use Swift. This is a pour-on which we use , as well as the above steps, on our old horse who was moved up from South Australia a few years ago.
If your horse is at the stage where they are "tearing themselves to pieces" call your vet for an appointment as your horse may need a definitive diagnosis, and if Qld Itch is diagnosed you may require more aggressive aids to get the condition under control, such as a cortisone cream &/or injections. Then you can go to preventative measures as mentioned earlier. We had to do this with our old horse when we first brought him up here.
Qld. Itch Remedy:
200mls White Vinegar
200mls Bath Oil (could be baby oil or avon skin so soft).
10mls Eucalyptus Oil
Bit of Tea Tree Oil
Make up to 500mls of water, Shake & Spray twice daily.
As with any new product we use on our horses it may be a good idea to do a spot test for a few days (especially if your horse has sensitive skin) before spraying all over.
I'm sure there are many other effective treatments out there that you have used, and it would really be helpful if you have a chance to write in & share your experiences with us.
Back to Horses